FREEDOM FROM SLAVERY OF TOBACCO
Faridabad, India | 16 Aug 2020 to 16 Aug 2020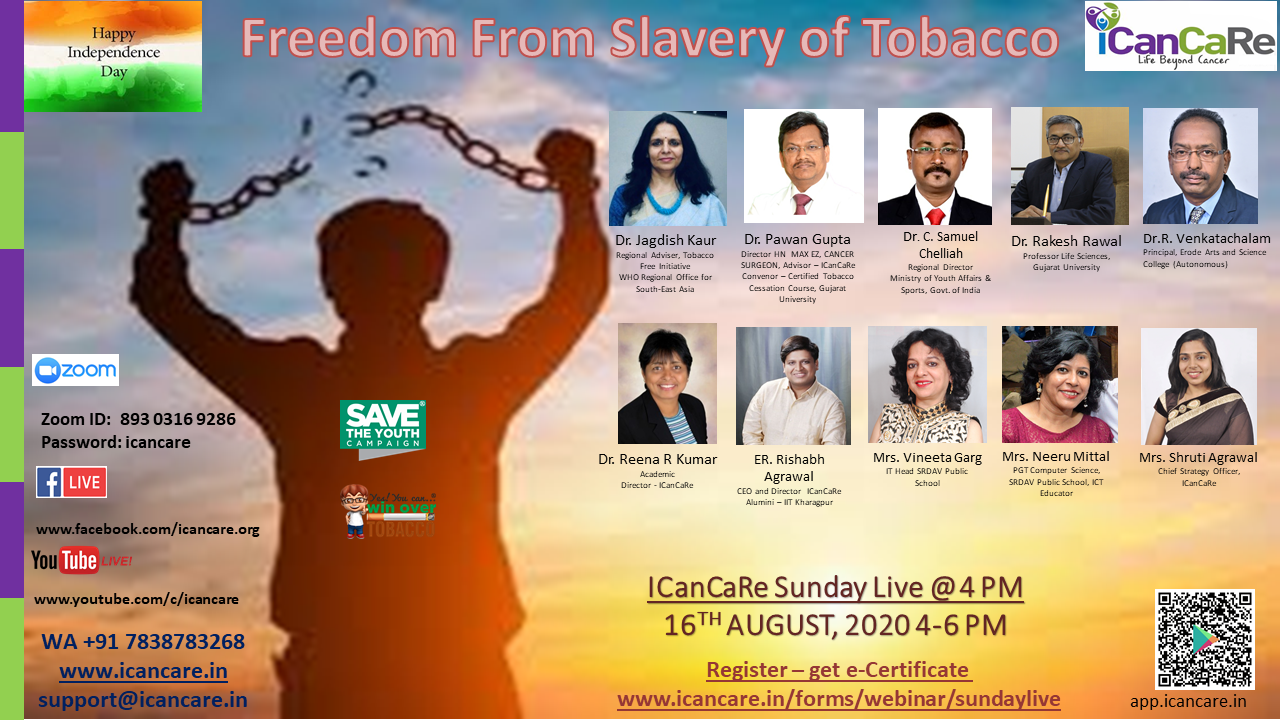 Name of Host : Innovative Cancer Care and Rehabilitation
Name of Institution : NSS Erode Arts and Science College Tamil Nadu
URL of Institution : http://icancare.in
Brief Summary :
ICanCaRe, in association with NSS Erode Arts and Science College Tamil Nadu
invite you to join an Independence Day Special ICanCaRe Sunday Live @4PM
Topic: FREEDOM FROM SLAVERY OF TOBACCO!
Date: Sunday, 16th Aug 2020
with Mrs. Jagdish Kaur, Regional Director, Tobacco Free Initiative, WHO Regional Office South East Asia
The foreigners brought tobacco into India, Bound us to its slavery & ruled on us,
And we still continue to be slaves of the biggest killer on Earth.
Let's all this Independence Day take an oath to make Tobacco Quit India!
Together we can. Together we will!
Joining Details
YouTube Live Link:
https://youtu.be/ZzhPX_t_pd4
Zoom Meeting Link:
https://us02web.zoom.us/s/85926603584?pwd=RENmUHF4ZGo3OUJxMXNhU3NRUEcxQT09
id: 859 2660 3584
Passcode: icancare
Facebook Live Link:
https://www.facebook.com/icancare.org/posts/2225489040929845
Register
https://icancare.in/forms/webinar/sundaylive
Download ICanCaRe App:
http://app.icancare.in
Like & Subscribe to our YouTube Channel
E-certificate for all registered attendees, do fill the feedback form
Media Coverage :
URL of the event : https://youtu.be/ZzhPX_t_pd4